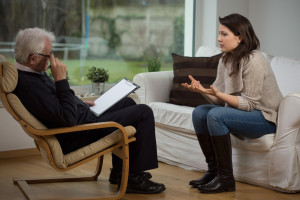 Everyone has experienced some stress throughout their lives and it can stem from a variety of things like work, finances and even relationships. When our body is subjected to stress, a number of things can happen like an increase in anxiety levels, energy loss and much more; it's just an uncomfortable situation to be in but it usually subsides and we return back to normal selves. However, some of us may feel like we are excessively under a great amount of stress all the time and when that happens, it's no longer being just stressed out, it's a psychological issue that needs to be address. With that being said, those who consistently feel too overwhelmed to deal with their problems may need to seek professional counseling through psychotherapy to help them get out of their rut.
Did you know over a quarter of all adult Americans experience and suffer from anxiety, depression or another mental disorder in any given year? According to the National Institute of Mental Health, nearly 37% percent seek treatment through healthcare use and a little over 42% seek treatment through any service, including healthcare. While there's still a decent chunk of people not receiving treatment, it's important to take care of your physical wellbeing as well as your mental wellbeing and you could benefit from psychotherapy.
What Is Psychotherapy?
The American Psychological Association defines psychotherapy as, "a collaborative treatment based on the relationship between an individual and a psychologist. Grounded in dialogue, it provides a supportive environment that allows an individual to talk openly with someone who's objective, neutral and nonjudgmental. The individual and the psychologist will work together to identify and change the thought and behavior patterns that are keeping the individual from feeling their best."
Considering psychotherapy can help you overcome the struggles you are dealing with like depression, drug or alcohol abuse, coping with the loss of a loved one and many other issues. It's more detrimental to your psychological health to continue on without treatment from a professional because your feelings will only progress and make it more difficult to get through the day. In fact, psychotherapy and private counseling is very effective when it comes to treating an individual and a successful psychotherapist like Stuart MacFarlane, analyst, has used analytical psychology principles to help hundreds of people manage many psychological disorders.
Are you ready to try psychotherapy to reach a better mindset?